Breaking Barriers: How a Bold Display of Culture is Shaping a New Global Narrative
In a world that is increasingly interconnected, cultural barriers have the potential to hinder progress and cause misunderstandings. However, amidst this complex landscape, initiatives aimed at breaking down these barriers are emerging, showcasing the power of a bold display of culture to shape a new global narrative.
One notable example is the global phenomenon of K-pop, which has taken the world by storm with its catchy beats and visually stunning performances. Representing a fusion of music, dance, and fashion, K-pop has been embraced by fans across the globe, transcending linguistic and cultural boundaries. Its impact on the global entertainment industry has been significant, with K-pop acts gaining recognition and fan bases even in countries where the language is not widely spoken.
The success of K-pop can be attributed to a number of factors, such as the diversity and uniqueness of each group, the creativity and quality of their performances, and the strategic use of social media to connect with fans worldwide. However, at the core of K-pop's success is the bold display of Korean culture. Each group's music and dance routine is infused with elements of traditional Korean culture, such as traditional clothing or dance moves, showcasing the beauty and richness of the country's heritage.
K-pop's success is just one example of the power of a bold display of culture in breaking down barriers and shaping a new global narrative. Through initiatives like cultural exchanges, international festivals, and collaborations between artists from different countries, we can create a more connected and understanding world. This not only fosters greater cultural appreciation but also helps to address issues of discrimination and prejudice that stem from misunderstandings and lack of exposure to different cultures.
Furthermore, the impact of a bold display of culture can be felt beyond the entertainment industry, with various countries using their cultural heritage to boost tourism and economic growth. For instance, countries like South Korea and Japan have capitalized on the global popularity of their pop culture to attract tourists and promote their image as trendsetters.
However, it is important to note that a bold display of culture is not a magic solution to global issues such as discrimination and prejudice. It is merely a starting point, a tool that can be used to promote greater understanding and appreciation of different cultures. More needs to be done to tackle the root causes of these issues, such as education and policy changes.
In conclusion, the success of initiatives like K-pop highlights the power of a bold display of culture in breaking down barriers and shaping a new global narrative. By showcasing the beauty and richness of different cultures, we can foster greater understanding and appreciation, and ultimately build a more connected and peaceful world.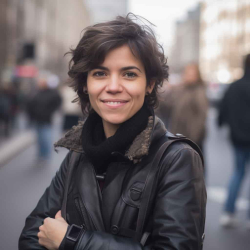 Últimas entradas de Luna Miller
(ver todo)