Breaking the Chains of Discrimination: A Call to Action for Equality and Justice
Discrimination is a pervasive issue in many societies across the world. The concept of discrimination is rooted in the unequal treatment of individuals or groups on the basis of their race, gender, religion, sexual orientation, age, disability, or other characteristics. Discrimination can affect every aspect of life, from employment opportunities, education, housing, healthcare, to participation in social and political activities.
One of the most serious impacts of discrimination is its contribution to social and economic inequality. When people are denied access to opportunities or resources based on their identity, they are at a disadvantage and may experience lifelong financial hardship. Additionally, discrimination can lead to the erosion of the social fabric, creating a sense of distrust and division within communities.
Despite progress made towards equality in recent years, discrimination continues to be a pervasive issue in many areas of society. In some cases, it remains cloaked by subtle biases and microaggressions, while in others it manifests itself through outright violence and hate crimes.
Breaking the chains of discrimination requires a call to action for equality and justice. This requires promoting a culture of inclusivity, respect, and tolerance at all levels, from personal relationships to institutional policies.
This culture of inclusivity must begin with understanding. We must all work to educate ourselves about the perspectives, needs, and experiences of those from diverse backgrounds in order to develop empathy, compassion, and an appreciation for their unique humanity.
Additionally, it is critical that we break down the structural barriers that perpetuate discrimination. We need policies and programs that promote inclusive and equal opportunities for everyone, regardless of their race, gender, religion, sexual orientation, age or disability.
This requires not only action from governments and institutions but also from ordinary citizens. As individuals, we can all play a role in promoting equality and justice by actively challenging discrimination in our daily interactions and by supporting efforts to create a more equitable society.
Breaking the chains of discrimination is a long-term, ongoing process that requires the sustained dedication and commitment of all. But by working together, we can create a more just and equitable world, where all individuals are valued and treated with dignity and respect.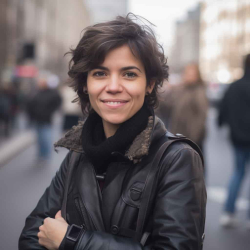 Últimas entradas de Luna Miller
(ver todo)