Are you a traveler who loves picturesque sights, historic buildings, and charming streets? Then, you should visit the enchanting beauty of charming towns. These quaint towns offer a unique experience that cannot be found in big cities or touristy places. From cobblestone streets to colorful buildings, these towns provide an immersive experience that will make you want to extend your vacation. In this article, we will explore the fascinating features of charming towns and give you practical tips on how to plan your dream vacation.
What Defines a Charming Town?
Charming towns are characterized by their small size, slow pace, and rustic feel. These towns usually have a population of less than 10,000 people and are situated in a peaceful environment. They often have a rich history that is reflected in the architecture of the buildings and the traditions of the locals. The streets of these towns are usually cobblestoned, and the houses are colorful with intricate details.
Top Charming Towns to Visit
If you are looking for a charming town to visit, then you are spoilt for choice. Here are some of the top charming towns that you should consider adding to your bucket list:
1) Folegandros, Greece
This Island is situated in the southern part of the Cyclades islands in Greece and is one of the most scenic places in the country. Folegandros is small, yet beautiful and has a slow pace that will make you feel relaxed. Cobbled streets, white-washed buildings, and beautiful beaches are some of the things that make Folegandros charming.
2) Oia, Greece
Oia is a village that is situated in Santorini, Greece. It is the perfect place to experience the Cycladic architecture and the famous sunsets. The village is small but has numerous things to do, including shopping, dining, visiting art galleries, and exploring various churches.
3) Gruyères, Switzerland
Gruyères is a small medieval town that is located in the Swiss Alps. The town is well-known for its delicious cheese and chocolate, but that's not all. The town also has a castle that dates back to the 13th century, art galleries, and museums showcasing historical artifacts.
4) Hallstatt, Austria
Hallstatt is a picturesque town located in the Salzkammergut region of Austria. The town is surrounded by mountains and has a beautiful lake. The town has a rich history dating back to the Iron Age, and the locals preserved the tradition and culture of their ancestors. The town is known for its salt mines, where visitors can take a tour and learn about the process of salt extraction.
How to Plan Your Dream Vacation to a Charming Town
Planning a trip to a charming town can be overwhelming, especially if you have never been there. Here are some practical tips that will help you plan your dream vacation.
1) Research your Destination
Before you book your flight, it is essential to research your destination thoroughly. Learn about the weather, the culture, the language, and the currency. Knowing this information in advance will help you prepare and pack accordingly.
2) Book Accommodation in Advance
Charming towns are not as commercialized as large cities, and as such, the accommodation options may be limited. Therefore, booking your accommodation in advance is recommended to ensure that you have a comfortable and relaxing stay.
3) Plan Your Activities
Although charming towns are known for their slow pace, there are many things to do and see. Research the activities available in the town and plan accordingly. This will ensure that you make the most of your time and don't miss out on the best experiences.
4) Pack Appropriately
Charming towns have a different atmosphere than big cities, and as such, you need to pack accordingly. Pack comfortable shoes for walking on cobblestoned streets, lightweight clothes for warm weather, and a jacket for cool evenings.
5) Learn a Few Phrases
Although most people in charming towns speak English, it is respectful to learn a few phrases in the local language. This will help you interact with the locals and make new friends.
The Benefits of Visiting Charming Towns
Visiting charming towns has several benefits that cannot be found in large cities or touristy places. Here are some of the benefits of visiting charming towns:
1) Experiencing Authentic Culture
Charming towns are not commercialized, and as such, offer an authentic cultural experience. You will have the opportunity to interact with locals, taste traditional food, and learn about the town's history.
2) Relaxation and Peacefulness
Charming towns are known for their peaceful environment, scenic sights, and slow pace. This atmosphere is ideal for those who want to relax and unwind from the stresses of everyday life.
3) Unique Architectural Designs
Charming towns have a unique architectural design that reflects the town's history and tradition. From colorful buildings to intricate details, the architecture in charming towns is unlike anywhere else.
Conclusion
Visiting charming towns is an immersive experience that cannot be found anywhere else. From the architecture to the culture and the peaceful atmosphere, these towns offer unique experiences that will create lasting memories. When planning your next dream vacation, consider visiting a charming town, and you will not regret it. Remember to research your destination, book accommodation in advance, plan your activities, pack accordingly, and learn a few phrases in the local language. Enjoy your trip to these enchanting beauty towns!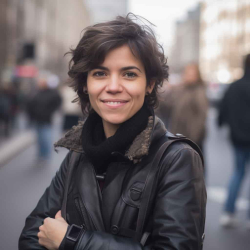 Últimas entradas de Luna Miller
(ver todo)