Camping has long been a favorite summer activity for those who love the great outdoors. However, for some, the idea of roughing it in a tent with only the bare essentials is just not that appealing. Thankfully, glamping, or glamorous camping, has become an increasingly popular alternative for those seeking a more luxurious camping experience. In this article, we'll take a closer look at what glamping entails, why it's become so popular, and how you can plan your own glamping adventure.
What is Glamping?
Glamping is a term used to describe a type of camping that combines the best of both worlds: the beauty and serenity of nature with the luxury and comfort of a high-end hotel. Glamping accommodations can range from luxury tents to treehouses, yurts, cabins, and more. These accommodations come equipped with comfy and cozy beds, plush linens, electricity, and often even ensuite bathrooms and hot tubs.
Glamping offers travelers the opportunity to escape the hustle and bustle of everyday life and unwind in a beautiful natural setting without sacrificing comfort. Instead of roughing it in a sleeping bag on the ground, you'll be sleeping in a warm bed with soft blankets, heated floors, and stunning views of the great outdoors.
Why Glamping has Become So Popular
There are several reasons why glamping has become increasingly popular in recent years. One of the primary reasons is that people are looking for unique and memorable experiences when they travel. Glamping offers guests an alternative to traditional hotels and resorts and allows them to create lasting memories in a beautiful natural setting.
Another reason for the popularity of glamping is that it appeals to a wide range of travelers. From families to couples to solo travelers, glamping offers something for everyone. Families with children, for example, can enjoy a range of outdoor activities like hiking, fishing, and kayaking during the day and relax in their cozy glamping accommodations at night.
Finally, glamping is becoming more popular because it offers an eco-friendly way to travel. Many glamping accommodations are designed to reduce waste and energy usage, which is great news for travelers who want to reduce their carbon footprint.
Where to Find the Best Glamping Accommodations
Glamping accommodations can be found all over the world, from national parks to private properties. Some of the most popular destinations for glamping include:
– Yellowstone National Park: Yellowstone is home to a variety of glamping accommodations, including luxury tents and cabins. Glampers can enjoy beautiful views of the park while taking advantage of amenities like heated floors and hot tubs.
– Costa Rica: Costa Rica is home to a wide range of glamping accommodations, including treehouses, tents, and eco-lodges. Glampers can enjoy stunning views of the rainforest while taking part in activities like zip-lining and hiking.
– The Swiss Alps: The Swiss Alps are a popular destination for glamping, with luxury tents and chalets offering stunning views of the mountains. Glampers can enjoy hiking, skiing, and other outdoor activities during the day and relax in their cozy accommodations at night.
When choosing a glamping destination, it's important to do your research and read reviews from other travelers. You'll want to choose a destination that offers the amenities and activities that are important to you, whether that's a hot tub, hiking trails, or access to water sports.
Tips for Planning Your Glamping Adventure
If you're considering a glamping adventure, here are some tips to help you plan:
– Choose your destination carefully: As discussed above, choosing the right destination is key to having a great glamping experience. Consider your budget, the type of accommodation you want, and the activities you want to participate in when making your decision.
– Pack appropriately: While you won't be roughing it in a traditional sense, you'll still want to pack for the outdoors. Be sure to bring comfortable clothing, sturdy shoes, and a warm jacket. Depending on your destination, you may also need to bring bug spray, sunscreen, and other outdoor essentials.
– Research the amenities: Glamping accommodations can vary widely in terms of amenities. Some may offer basic accommodations with simple furnishings, while others may include hot tubs, en-suite bathrooms, and even private chefs. Before booking your accommodation, be sure to read reviews and check the amenities to make sure they meet your expectations.
– Embrace outdoor activities: The whole point of a glamping adventure is to embrace nature, so be sure to take advantage of the opportunities for outdoor activities like hiking, fishing, and kayaking. Many glamping destinations offer guided tours and activities, so be sure to ask about these options when booking.
Summary
Glamping offers travelers the opportunity to experience the great outdoors in a luxurious and comfortable way. With a wide range of accommodations available, travelers can choose the glamping experience that best suits their needs and preferences. Whether you're looking for a romantic getaway or a family-friendly vacation, glamping is a unique and memorable way to enjoy the beauty of nature while staying in a comfortable and cozy setting.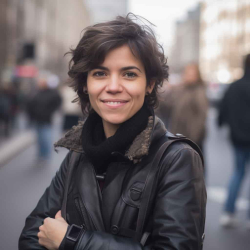 Últimas entradas de Luna Miller
(ver todo)