In a sport dominated by established veterans and record-breaking champions, a new tennis prodigy has emerged to take the world by storm. Coco Gauff, at just 15 years old, has already cemented her place in tennis history with an unprecedented run at Wimbledon that saw her defeat former champions and break records along the way. The rise of this young tennis superstar has taken the world by surprise and is a testament to her undeniable talent, skill, and determination.
The journey of Coco Gauff began in Delray Beach, Florida, where she first picked up a tennis racket at the age of six. From an early age, it was clear that Gauff had an innate talent for the sport, and her coaches and family quickly recognized her potential. As she began to train and compete at a higher level, her skills continued to improve, and she quickly worked her way up the rankings.
However, it was at Wimbledon in 2019 where Gauff truly announced herself as a force to be reckoned with. Despite being ranked outside the top 300, she secured her place in the qualifying rounds of the tournament, where she defeated some of the world's top players, including Venus Williams, who had won the tournament five times. Gauff became the youngest player to qualify for Wimbledon in the Open era and the youngest player to win a singles match at the tournament since 1991.
But it wasn't just her wins that captured the world's attention; it was her calm and composed demeanor on the court. Despite the immense pressure of playing against seasoned professionals, Gauff never wavered, displaying a maturity beyond her years. Her poise and grace on the court are a testament to her unflappable character and strong mental fortitude.
Following her breakout success at Wimbledon, Gauff has continued to impress on the global stage. In October 2019, she won her first WTA singles title at the Linz Open in Austria, again making history as the youngest singles title-holder on the WTA tour since 2004. Her stunning performances have also earned her a place in the US Fed Cup team, further cementing her status as one of the most exciting up-and-coming players in tennis.
The rise of Coco Gauff has been nothing short of remarkable. Her natural talent, combined with her unrelenting work ethic and mental toughness, have set her on a trajectory to become one of the all-time greats in tennis. At just 15 years old, she has already achieved more than most players will in a lifetime, and one can only imagine what the future holds for this tennis phenom.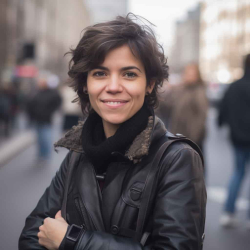 Últimas entradas de Luna Miller
(ver todo)