In recent years, a growing global consensus has emerged on the need to tackle climate change and secure a sustainable future for our planet. With rising temperatures, melting glaciers, and more frequent and severe natural disasters, the urgency of the issue cannot be ignored. It was heartening to see world leaders come together at the COP26 summit in Glasgow, Scotland, and agree on a plan aimed at limiting global warming to 1.5 degrees Celsius and transitioning to a net-zero carbon economy by mid-century.
The agreement, signed by nearly 200 countries, marks a significant breakthrough in the fight against climate change. For the first time, major emitters such as China, the United States, and India have committed to taking serious action to reduce their greenhouse gas emissions. The plan focuses on five key areas: mitigation, adaptation, finance, innovation, and collaboration.
On the mitigation front, countries have agreed to ramp up their efforts to reduce greenhouse gas emissions this decade and aim for net-zero emissions by mid-century. This will require bold action, including a rapid shift away from fossil fuels and towards renewable energy sources such as wind, solar, and hydropower. Countries have also agreed to phase out unabated coal power and push for more electric vehicles and efficient buildings.
Adaptation is equally important, as the effects of climate change are already being felt around the world. From rising sea levels to more frequent and severe heatwaves, droughts, and floods, communities and ecosystems are facing unprecedented challenges. The COP26 agreement calls for a global goal to adapt to the impacts of climate change and ensure that vulnerable communities are protected.
Finance is another critical element of the plan. Developing countries, in particular, need support to transition to a greener economy and address the impacts of climate change. The COP26 agreement provides a roadmap for developed countries to deliver on their existing pledge to mobilize $100 billion a year in climate finance by 2020 and calls for a new goal to be set for 2025.
Innovation and collaboration are also essential to achieving the goals of the agreement. The world needs breakthroughs in areas such as carbon capture and storage, sustainable agriculture, and clean energy to meet the challenge of reducing emissions. This will require governments, the private sector, and civil society to work together and share knowledge and resources.
Overall, the COP26 agreement represents a major step forward in the fight against climate change. However, it is not a silver bullet, and much work remains to be done. The success of the agreement will depend on individual countries' ability to deliver on their commitments and work together towards a common goal. It will also require continued vigilance and pressure from civil society, and the media, to hold governments accountable for their actions.
As journalists, we have a critical role to play in this regard. We must continue to report on the impact of climate change and hold leaders accountable for their actions. We should also continue to highlight the solutions being developed and the innovation and collaboration that are driving progress towards a more sustainable future. By doing so, we can help build a global movement for change and ensure that the triumph of global unity in Glasgow leads to a brighter, more sustainable future for all.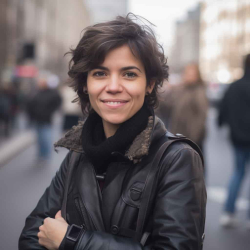 Últimas entradas de Luna Miller
(ver todo)