In recent years, the tennis world has witnessed a trend that has been both exciting and unexpected: the rise of the underdog. Athletes who previously went largely unnoticed are now making headlines and setting the new standard for excellence in the sport.
This evolution in tennis can be traced back to a few key factors. Firstly, the sport has grown more competitive than ever before, with more players than ever vying for the top spot. Secondly, younger athletes are entering the sport with better training, nutrition, and support systems than their predecessors, leading to rapid improvements in their skills and performance. Lastly, the pandemic-induced break in tennis has allowed players more time to heal from injuries and focus on their game, leading to a more level playing field.
This underdog phenomenon is apparent in the recent Grand Slam tournaments, with unseeded players and those ranked outside the top 10 consistently making deep runs into the latter stages of the tournament. This year's Australian Open saw 22-year-old Jennifer Brady, ranked 24th in the world at the time, reach her first-ever major final. On the men's side, 27-year-old Aslan Karatsev of Russia, who had never before qualified for a major tournament, made his way through the qualifying rounds to become a semifinalist.
The French Open also witnessed the breakthrough of several underdogs, with Barbora Krejcikova, ranked 33rd in the world in singles, winning her first major title in the women's draw, while Stefanos Tsitsipas, seeded fifth and long considered a potential top player, reached his first major final, only to lose to Novak Djokovic.
At Wimbledon, 18-year-old American Emma Raducanu stole the headlines with her incredible run from qualifying all the way to the final, where she defeated fellow underdog Leylah Fernandez to become the youngest Grand Slam champion since 2004.
As for the US Open, the tournament can be called the 'Golden Slam of underdogs', with all four semifinalists being first-time major semifinalists, including 18-year-old Leylah Fernandez's miraculous run to the final.
This dominance of underdogs has shaken the tennis world to its core, forcing the established players to rethink their strategies on the court. It has also infused a fresh sense of excitement and unpredictability into the sport, making each Grand Slam tournament an event to look forward to with anticipation.
In conclusion, the rise of the underdog in tennis is both an affirmation of the sport's competitive spirit and a sign of its resurgence in popularity. Fans are excited to see new faces pushing past their limits and achieving greatness, while players are motivated to improve their game, knowing that anyone can become a champion with the right skills, support, and opportunity. It is a thrilling time to be a fan of professional tennis, and we can expect to see even more underdog success stories in the years to come.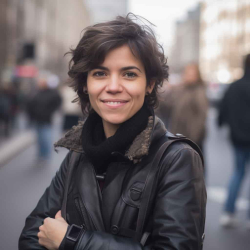 Últimas entradas de Luna Miller
(ver todo)