The COVID-19 pandemic has certainly turned the world upside down, forcing many aspects of society to adapt and change. This includes the world of sports, where traditional team sports have been put on hold due to concerns about spreading the virus. However, one sport has been experiencing a bit of a comeback during these difficult times – golf.
At first, golf courses were closed along with all other non-essential businesses. But as restrictions began to ease, golf courses were some of the first places to reopen. One reason for this is because golf is the quintessential socially-distanced game. With players spread out over acres of open land, it's easy to maintain a safe distance from each other.
But it's not just the social distancing aspect that's causing golf to gain popularity during the pandemic. Many people are looking for outdoor activities to do that are relatively low-risk for contracting the virus. And golf fits the bill perfectly. With so many other activities and events cancelled, golf provides a way to get outside and do something that feels somewhat normal.
In fact, the National Golf Foundation reported that rounds played in the U.S. in June were up almost 14% compared to the same month last year. This surge in popularity is not limited to the United States, either. Around the world, golf courses are seeing a similar uptick in activity.
Golf courses have had to make some adjustments to accommodate new safety measures. For example, touching the flagpole is often prohibited, and clubhouses may be closed or have limited access. But for golf enthusiasts, the minor inconveniences don't seem to be a problem.
In addition to being a way to get outside and stay active, golf can also provide some much-needed mental relief during these uncertain times. With so much stress and anxiety in the world, taking time to play a round of golf can be a way to forget about the worries of the pandemic and enjoy a few hours of peace and quiet.
As the pandemic continues to affect our daily lives, golf seems poised to continue its comeback as the ultimate socially-distanced game. With its perfect blend of outdoor activity, mental and physical challenge, and social distancing, golf offers a unique escape from the stresses of the pandemic. So if you're looking for a safe and enjoyable way to get outside, consider hitting the links for a round of golf.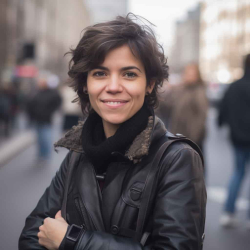 Últimas entradas de Luna Miller
(ver todo)