Justice Served with a Side of Empathy: How One Judge is Changing the Legal System
In a society where the legal system is often perceived as cold and impersonal, one judge is making it her mission to bring empathy and humanity back into the courtroom. Judge Ginger Lerner-Wren is a shining example of how one person can make a difference in the pursuit of justice.
Lerner-Wren has been a Broward County judge since 1997 and currently presides over the Mental Health Court. This specialized court is designed to help those with mental illnesses who have been charged with a crime. Instead of incarceration, the focus is on treatment, rehabilitation, and working towards a successful re-entry into society.
What sets Lerner-Wren apart is her deep understanding and empathy for those struggling with mental illness. As a young lawyer, she witnessed first-hand the neglect and abuse of patients in mental institutions. This experience ignited her passion for advocating for the rights of the mentally ill.
In her court, Lerner-Wren takes a holistic approach to justice, taking into account not only the legal facts but also the individual's personal circumstances and mental health. She works closely with medical professionals, social workers, and support groups to create a personalized treatment plan that addresses each individual's unique needs.
Lerner-Wren's approach has seen remarkable results. The rate of recidivism in her Mental Health Court is significantly lower than the national average for traditional criminal courts. Her success has not gone unnoticed, and her court has become a model for other jurisdictions across the country looking to reform their own legal systems.
Beyond her work in the courtroom, Lerner-Wren is also an advocate for mental health awareness and reform. She has spoken at conferences, written op-eds, and partnered with organizations to shed light on the struggles of those with mental illness and the need for more compassionate and effective treatment options.
In a time where the legal system often feels inaccessible and daunting, Lerner-Wren's work offers a glimmer of hope. Through her dedication, empathy, and determination, she is showing that a more just and humane legal system is possible.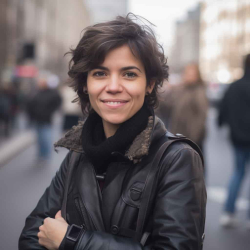 Últimas entradas de Luna Miller
(ver todo)