The world today is witnessing an unprecedented surge in revolutionary movements across the globe, with millions of people taking to the streets demanding their basic human rights. The Revolutionary Movement: Reclaiming Human Rights for All, Striving for Equality and Justice Worldwide, is a dynamic and powerful force, driven by a sense of urgency and a deep commitment to social and political change.
At its core, this movement is about reclaiming the fundamental rights of all people, regardless of race, gender, ethnicity, or social status. It is a call to action to end the systemic inequalities that plague our societies, and to create a world that is equitable and just for all.
This movement has been sparked by a series of events in recent years, including the Black Lives Matter movement in the United States, the Me Too movement, and the ongoing struggles for democracy and human rights in countries like Hong Kong and Myanmar. These movements have highlighted the urgent need for change and have catalyzed a global movement for human rights.
The Revolutionary Movement is guided by a set of core principles, including the belief that all people are equal and should be treated with dignity and respect. It seeks to dismantle systemic barriers to equality, including racism, sexism, and classism, and to promote policies and practices that advance justice and equity.
One of the key strengths of this movement is its global scope. It is not limited to any one country or region, but rather is a truly global movement. This has allowed for the sharing of ideas and strategies across borders, and has helped to build a sense of solidarity and unity among activists and organizations in different parts of the world.
Despite its many successes, the Revolutionary Movement faces significant challenges. Governments and other powerful actors often respond to these movements with violence and repression, and the struggle for human rights and justice can be a long and difficult one.
Yet, despite these challenges, the Revolutionary Movement remains a powerful force for change. It is driven by a deep sense of urgency and a fierce commitment to human rights, and it has the potential to transform societies and create a world that is just and equitable for all. As journalists, it is our responsibility to report on this movement with accuracy and sensitivity, and to support its goals of human rights, equality, and justice worldwide.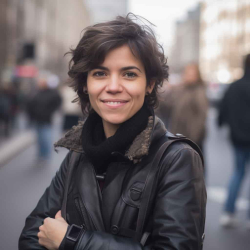 Últimas entradas de Luna Miller
(ver todo)