A wedding is a special occasion that marks the start of a new journey for two people in love. Every couple wants their wedding to be an unforgettable event that reflects their personality and style. As the leaves start to turn from green to shades of gold, red, and orange, fall-themed weddings are becoming an increasingly popular choice for couples. Why fall-themed weddings? Let's dive into why this season is the ultimate choice for a magical and memorable ceremony.
The Magic of the Season
Fall is a magical season that encapsulates warmth, beauty, and coziness. The season comes with cool air, beautiful foliage, and all sorts of harvested goodies. Fall invokes a sense of romance and closeness, which makes it a favorite season for couples looking to tie the knot. From stunning autumn leaves to golden hour lighting, nature's beauty that comes with fall provides a magical backdrop to your wedding day. Fall is a season that is adored by many for its beautiful warmth and captivating energy. Embracing fall's magic can bring your wedding to life, making it a truly memorable experience.
Fall – An Abundance of Color
One of the key elements of a fall-themed wedding is the abundance of color. Fall is a beautiful season with an array of warm colors that will add a unique touch to your wedding. Think of oranges, yellows, deep reds, and earthy colors like burnt sienna, rust, and brown. These colors can be incorporated into wedding themes through floral arrangements, table settings, and even bridal party outfits. The combination of these warm colors creates an ambiance of warmth and coziness, which is perfect for welcoming guests and setting the tone for an unforgettable wedding day. Consider embellishing your wedding day with leaves, pumpkins, and gourds to add a touch of fall color.
Fall – A Feast for the Senses
Turning the fall season into a theme for your wedding allows you to incorporate all sorts of warm and delicious tastes and smells- seasonal favorites that bring warmth and comfort. Fall is a time for good food, warm drinks, and comfort. Tying this into your special day can be magical. Think of a hot cider bar to keep your guests warm as they arrive or a cheese and charcuterie station that features seasonal cheeses and apples. Add a unique touch to your wedding cake with spices such as cinnamon and nutmeg or go for a fall-inspired dessert offering like apple pie or pumpkin roll. Incorporating these touchpoints will be a sensory experience that your guest will remember for years to come.
Fall – Weather Is Just Right
Wedding events require a lot of planning, and one of the most critical elements is weather. The weather has the power to make or break your wedding day. Fall, however, offers amazing weather that is neither too hot nor too cold, making it the perfect time of year for a wedding. The crisp air provides a perfect temperature for outdoor ceremonies, which is ideal for couples who prefer outdoor weddings. Moderate weather means that you're not worrying about dripping sweat or shivering cold; your guests will appreciate it too. The season often presents bright sunny skies and beautiful golden light, which makes for stunning wedding photographs.
Fall – A More Budget-Friendly Option
Weddings aren't cheap, and it's no secret that planning a wedding that will live up to your dreams comes with a cost. One of the most significant contributors to the wedding budget is the venue. With fall, there are options for budget-friendly venues – it's not peak season for most. Furthermore, when it comes to putting the decorations together, fall is one of the seasons that are overly abundant in natural decor elements that need little to no embellishment. Floral arrangements, for instance, can be minimal, and you can use foliage instead of blooms to achieve the fall look you're going for.
Tips on Creating a Fall-Themed Wedding
Now that you've considered some of the reasons why fall season is a perfect time for a wedding, let's delve deeper and think about how to create an unforgettable fall-themed wedding.
Choose the Perfect Location – Fall is beautiful, no matter where you are, but choosing your perfect location will make your day even more beautiful. Consider settings like wineries, farms, pumpkin patches, or mountain getaways.
Get creative with lighting- String lights and votive candles deliver an intimate and cozy ambiance. Make sure to collaborate with the venue to find out what types of lighting will work best.
Elevate your floral arrangements-  the centerpiece of your décor is your flowers. Incorporate natural elements such as pumpkins and pine cones with the traditional fall floral colors to make your florals look more unique.
Personalize Fall-inspired wedding favors – Make sure that your guests receive something they'll cherish long after the wedding. Consider fall-inspired items like pumpkin spice candles, acorn-shaped bottle openers, or little jars of apple butter.
Final Thoughts
Fall-themed weddings create an ambiance of warmth, magic, and coziness, making it a favorite choice for many couples. This season provides a unique opportunity to embrace all the warm and beautiful colors, flavors, and natural elements that fall has to offer. Choosing a fall-themed wedding allows you to create a truly memorable event that reflects the beauty of the season and your personality. Make sure to consider these tips and ideas as you navigate through planning for your dream wedding. Say 'I do' to fall and experience a magical and memorable wedding day.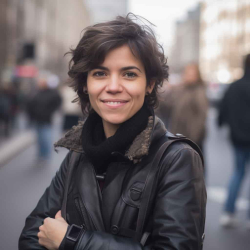 Últimas entradas de Luna Miller
(ver todo)