Have you ever dreamed of taking a road trip but don't want to sacrifice comfort and convenience? A motorhome may be the answer to your prayers. There's a reason why RV living is becoming increasingly popular around the world – it provides freedom, flexibility, and adventure. In this article, we'll discuss the top reasons why everyone should consider owning a motorhome and exploring the benefits of RV living.
1. Affordable Vacations:
Vacations can be expensive, especially if you're traveling with a family. But with a motorhome, you can cut down on costs. The initial cost of purchasing an RV may seem high, but it quickly pays off when you consider that the cost of staying in hotels, eating out, and renting a car can add up quickly. Plus, you'll save money by not having to pay for expensive airfare.
2. Flexibility:
One of the biggest benefits of owning a motorhome is the flexibility it provides. You can go where you want, when you want, without worrying about reservations or schedules. You won't be tied to one location, and you can easily change plans if you want. With a motorhome, you are free to follow the road and create your own route.
3. Convenience:
With a motorhome, you have all the comforts of home on the road with you. You can easily cook meals, take a shower, and sleep comfortably. You won't have to worry about packing and unpacking your bags every time you move, and you won't have to carry your luggage around. Plus, you'll be able to carry all the gear you need, whether it be fishing rods or hiking boots.
4. Bond with Family and Friends:
Traveling in a motorhome can be an incredible bonding experience for families and friends. You'll be spending time together in close quarters, experiencing new things and making memories. Family game nights and campfires will become a regular occurrence, and you'll have the opportunity to connect with nature and each other.
5. Unique Views:
When traveling by motorhome, you'll be able to see unique and beautiful sights that you wouldn't be able to from a hotel room. You can camp in national parks, stay in quaint towns, and visit off-the-beaten-path locations. You'll be able to explore at your own pace, and see parts of the country that you may have never knew existed.
6. Health Benefits:
Traveling by motorhome can also have health benefits. You'll be able to spend time outside and participate in activities like hiking, swimming, and biking. You'll be able to prepare your own meals, which can be healthier than eating out. Plus, you'll be able to escape from the stresses of everyday life and relax in nature.
7. Minimal Environmental Impact:
Traveling by motorhome also has minimal environmental impact. You'll be able to reduce your carbon footprint by not having to fly, eat out, or stay in hotels. You'll be able to recycle and conserve resources like water and energy. Plus, you'll be able to see some of America's most beautiful parks without causing harm to the environment.
Tips and Advice:
If you're considering owning a motorhome, there are some things to keep in mind. First, it's important to choose the right size for your needs. A large motorhome may provide more space and comfort, but it may be difficult to navigate on certain roads. Also, it's important to learn how to properly maintain your RV to keep it in good condition.
When planning your trip, it's important to plan out your route and make reservations if necessary. You should also be prepared for emergencies or unexpected situations. It's a good idea to bring extra food and water, as well as tools and spare parts.
Conclusion:
In conclusion, owning a motorhome can provide a unique and exciting way to travel. Whether it's to escape from the stresses of everyday life or to explore new places, a motorhome provides freedom, flexibility, and adventure. It's an excellent investment for families, couples, and solo travelers alike, and can provide a lifetime of unforgettable memories. So, why not consider owning a motorhome today?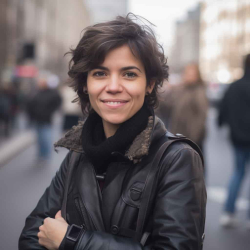 Últimas entradas de Luna Miller
(ver todo)